If you have ever had a medical imaging test such as an X-ray, CT scan, MRI scan, or ultrasound scan, you may have received a CD with your images on it. But how can you view these images on your computer? And what are DICOM images anyway?
In this blog post, we will answer these questions and show you how to view DICOM images from a CD using some free online tools like visor DICOM online. We will also explain some basic concepts about DICOM and why it is important for medical imaging.
What Are DICOM Images?
DICOM stands for Digital Imaging and Communications in Medicine. It is a standard format that enables medical professionals to view, store, and share medical images irrespective of their geographic location or the devices they use.
DICOM images contain not only the visual information of the image (such as pixels and colors) but also metadata (such as patient name, date of birth, study date, and modality type) that describe the image and its context.
DICOM images are usually stored in files. However, sometimes they are compressed into ZIP files or burned onto CDs for easier distribution.
Why Use DICOM Images?
DICOM images have many advantages over other image formats, such as JPEG or PNG. Some of them are:
They preserve the original quality and resolution of the image without any loss or distortion.
They allow for different types of image processing and analysis, such as measuring distances or angles, adjusting brightness or contrast, and zooming or panning.
They enable interoperability between different devices and systems that support DICOM, such as scanners, servers, workstations, and printers.
They facilitate communication and collaboration between different medical professionals who need to access or exchange the same image data.
How to View DICOM Images from A CD?
To view DICOM images from a CD on your computer, you need a software program called a DICOM viewer. A DICOM viewer is an application that can read and display DICOM files from various sources, such as CDs.
There are many free online DICOM viewers available on the internet that you can use without installing anything on your computer. Here are some steps to follow:
Insert the CD into your computer's drive.
Open your web browser (such as Chrome or Firefox) and go to one of these websites (imaios, postDICOM, dicomlibrary).
Drag and drop your CD icon (or folder) onto the loading area on the website.
Wait for the website to load your images.
Explore your images using the tools provided by the website.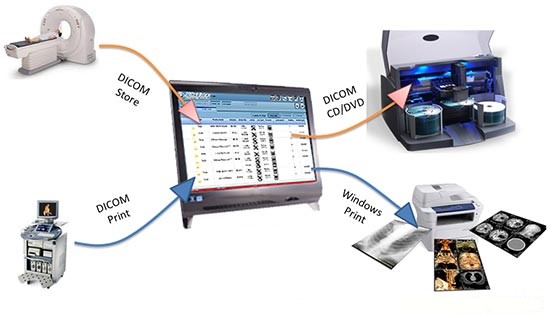 Some Tips to Remember
Make sure your internet connection is stable and fast enough to upload your images.
Check if you're CD contains multiple folders with different types of images (such as CT slices or MRI sequences). You may need to drag and drop each folder separately.
Be careful not to share any personal information that may be contained in your images (such as patient name or ID). You can anonymize your images before uploading them.
If you want to save your images on your computer or another device (such as a USB stick), you can download them from the website after viewing them.
Conclusion
Viewing DICOM images from a CD is not difficult if you have access to a free online DICOM viewer. You just need to drag and drop your CD onto the website's loading area and enjoy exploring your images. We hope this blog post has helped you understand what DICOM images are and why they are important for medical imaging, and some free tools such as the visor DICOM viewer.